Carroll Community College has received an Honorable Mention award from the National Council for Instructional Administrators (NCIA) for its program "Engage, Retain and Improve Academic Performance with an Online Tutorial Community."

The National Council of Instructional Administrators, headquartered at the University of Nebraska—Lincoln, selected winners in its 2010 Exemplary Initiatives Awards competition in four categories: professional and organizational development, community and workforce needs, curricular and program innovation, and student success. NCIA is a professional organization affiliated with the American Association of Community Colleges. The awards recognize outstanding programs to enhance the quality of higher education provided at two-year institutions in the United States. A panel of community college practitioners from across the country evaluated the submissions and selected seven institutions for recognition. Carroll's award was in the Student Success category. The college was recognized at the International Conference on College Teaching and Learning on April 6, 2011, in Jacksonville, Florida. "An honorable mention in the NCIA Exemplary Initiatives Awards competition is a significant achievement. There are typically several hundred applications, and only seven awards this year. My thanks go to instructor Raza Khan and all who supported the application. I recognize the continued efforts to make this innovative program incredibly successful," said Dr. James Ball, vice president of Academic and Student Affairs.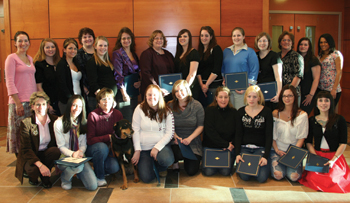 On March 28th, a completion ceremony was held for the Institute of Veterinary Assistant Training at Carroll Community College. Twenty-one students were awarded a Certificate of Achievement in Veterinary Assistant training. The training program, now in its 14th year, consists of 128 hours of training, including a 44-hour supervised clinical practicum. The institute was established to provide formal training for veterinary assistants and provides students with the basic knowledge and skills necessary for an entry-level position in a veterinary hospital. The training is supported and approved by the Maryland Veterinary Medical Association and the Maryland Veterinary Technicians Association as a formal training for a support position to a Veterinary Technician. The college would like to recognize the clinical sites that helped to make this year's program a success: Airpark Animal Hospital, Antrim Veterinary Hospital, Carney Animal Hospital, Carroll County Veterinary Clinic, Eldersburg Veterinary Hospital, Feathers, Tails and Scales, Hunt Valley Animal Hospital, Mt. Airy Veterinary Hospital, The Sykesville Veterinary Clinic, Windsor Veterinary Service, Ronald O. Schueler, DVM, LLC, and Walkersville Veterinary Clinic.