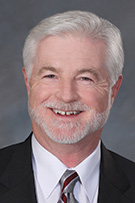 Dr. James D. Ball
President
Carroll Community College is brimming with great news this spring!

We have launched our new program in Entertainment Technology, which received support from a grant from the National Science Foundation. The program addresses a shortage in the audio-video specialist job market. In other program news, our Nursing program has achieved pre-accreditation status, a testament to the excellence of our Nursing students, faculty and administration.

A study by an economics firm has documented the profound impact the college has on the economy of Carroll County, and the return on investment earned by both students and taxpayers. The college's total economic impact on Carroll County in FY2016, including its many alumni working and living in the county, was calculated to be $107.5 million.

I am especially pleased when I hear about students who excel after their time at Carroll. Take the story of graduate Carrie Snurr. Carrie is a budding journalist who writes for a news service at the University of Maryland College Park. To her great excitement, a story she wrote was picked up by the Associated Press and then published in the Washington Post.

I want to congratulate our Foundation Board member Dr. Skip Amass, who received the Distinguished Volunteer award from Association of Fundraising Professionals. And I want to express our great appreciation to the Pleasant Valley Community Fire Company for establishing an endowed fund for Carroll students in memory of Robert Fogle, III.
Dr. James D. Ball
President