Carroll Community College Foundation Board Member Dr. Arnold "Skip" Amass has been recognized as a Distinguished Volunteer. Amass was honored at a November 15, 2016 National Philanthropy Day event organized by the Association of Fundraising Professionals, Western Maryland Chapter. The event was held at Catoctin Hall at Musket Ridge Golf Course in Myersville, Md.

Amass has served on the Carroll Community College Foundation Board for over 20 years. He has served in numerous roles including board president and has worked with numerous Foundation fundraising committees.

"I extend my deepest congratulations to Dr. Amass for his passionate and dedicated service to the Foundation," said College President Dr. James D. Ball. "Dr. Amass epitomizes the saying that actions speak louder than words. I am honored to know such an exemplary individual whose contributions have made a great impact on the college and the community."

"Dr. Amass gives every bit of his time, talent and treasure to set an example for others," said College Foundation Executive Director Steve Wantz. "His unwavering commitment helps to sustain and grow the important role of the Foundation in supporting our students."

The Association of Fundraising Professionals is the professional association responsible for generating philanthropic support for a wide variety of non-profit, charitable organizations. Founded in 1960, AFP advances philanthropy through its nearly 30,000 members in more than 200 chapters around the world. National Philanthropy Day is on the fifteenth of November and is observed annually in recognition of philanthropic contributions to the community and to the enrichment of our world.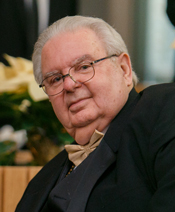 Dr. Skip Amass, Distinguished Volunteer.