By Madeleine Blake
Student and staff teams from Carroll Community College recently participated in the Literacy Council's 2006 Annual Spelling Bee, held at the Career and Technology Center on April 27th. When it was all over, our employee team placed first. The team of Clare Sebok, Janenne Corcoran and Bridget Leimbach out-spelled ten other teams from around the County, representing organizations such as Random House, Carroll County Times, Carroll County Public Library, and McDaniel College.
Carroll's team not only won, they scored the highest score in the history of the Spelling Bee—32 points.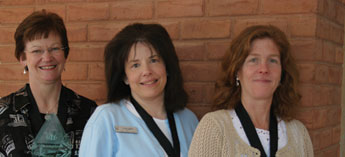 Bridget Leimbach, Clare Sebok, and Janenne Corcoran formed the team that won the Literacy Council's 2006 Annual Spelling Bee on April 27, 2006.
The Bee is a non-elimination event where each team is asked to spell a minimum of five words with the difficulty and point-level selected by the team. For two of the rounds, points are deducted for misspelling, which can change the scoring dramatically.
Difficult words can be passed to another team in an attempt to reduce their score. Some of the tougher words were: solstitial, casuistry, and hebephrenia.
The rivalry is friendly and teams are encouraged to adopt a humorous theme. The Random House Nerdz acted their parts wonderfully well. They came in second place, and gave the audience and opponents lots of laughs along the way.
The event is the major fundraiser for the Literacy Council of Carroll County, which is an entirely volunteer organization serving those seeking to improve their reading skills, including people with dyslexia and those for whom English is a second language.