Julia W. Gouge, president of the Carroll County Board of Commissioners, will be the featured speaker at the 13th Commencement of Carroll Community College on May 24, 2006. Commissioner Gouge continues a long tradition of community and educational leaders speaking at Carroll's graduation ceremony.
Gouge is currently serving her fourth term as County Commissioner. She is also an ex-officio member of the Board of Trustees of Carroll Community College.
A longstanding advocate of the college, Gouge supported construction of the Washington Road campus and encouraged the college's independence and accreditation in the early 1990s. She is also known for her strong support of continuing education and workforce development.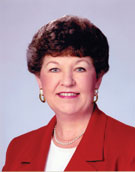 Commissioner Julia Gouge
Gouge is familiar to many County residents as host and interviewer for "Issues and Insights," a local cable show. She holds a corporate board
seat on the board of directors of the Economic Alliance of Greater Baltimore and is chairperson
of the Baltimore Metropolitan Council.
During her commencement address, Gouge will highlight the college's accomplishments, share graduate stories, and offer inspiring advice to the college's graduating class of 2006.