Judy Coen, former dean, department chair and faculty member at Carroll Community College, will present the Commencement Address at the May 29, 2013 ceremony at McDaniel College.

"I had the wonderful opportunity during my years at Carroll Community College to facilitate the efforts of a great faculty and staff so that they could fulfill the needs of the college and community," said Coen.

"I plan to share many memories of this great college. I hope to motivate graduates to chart a course for success in their future endeavors."

"I am pleased that Judy accepted my invitation to be Commencement speaker this year," said College President Dr. Faye Pappalardo. "Judy brings a wealth of insight into the history of the college. I expect her remarks to be as inspiring as her teaching was here at Carroll."

Coen served as dean of the Division of Business, Mathematics and Sciences at Carroll from 2007 to 2010. She served as chair for the Division of Mathematics, Sciences, Health and Wellness from 1990 to 2007. During this time, she guided the development of several allied health programs, including Registered Nursing, Practical Nursing, Physical Therapist Assistant, and Health and Exercise Science. Coen was a faculty member in Biology, beginning at Catonsville Community College in 1973. Coen also served as Biology discipline coordinator, and Biology and Math Department Chair at Catonsville, which is now part of the Community College of Baltimore County.

She made a number of presentations at local, regional and national conventions, which focused on the innovative use of technology and on teaching pedagogies.

Coen is retired from Carroll Community College and now lives in Kennebunk, Maine. Currently, she serves on the Board of Directors of the French Bulldog Rescue Network. Coen is a member of the Piscataqua Obedience Club, and she trains and competes in breed, obedience, rally and agility with French bulldogs.

Coen's educational background includes a combined Master of Science and Bachelor of Science degree with honors from Ohio State University. She also holds an Associate of Science from Catonsville Community College in Registered Nursing.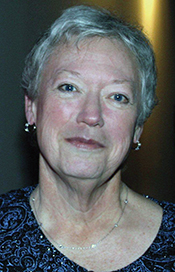 Judy Coen, former dean, department chair and faculty member at Carroll Community College