By Sylvia Blair
Over 350 Carroll Community College students will graduate in fiscal year 2005, with many expected to celebrate during ceremonies held May 25 at McDaniel College. The commencement ceremony includes students who completed their studies last August, December, and this May.
Dr. Robert L. Caret, president of Towson University, will be the graduation speaker. He became the 12th president of Towson University on July 1, 2003. Prior to this position, Dr. Caret was president of San Jose State University of the California State University System. Before assuming this post in California, he spent 21 years at Towson University, as a former faculty member, dean, executive vice president, and provost.
"I am pleased that Dr. Robert Caret has agreed to be graduation speaker, because he shows great understanding of community colleges and their role in higher education. In addition, Towson University is the number one institution to which Carroll students transfer." said Dr. Faye Pappalardo, president of Carroll Community College.
A survey of students who applied to graduate in fiscal year 2005 found that 58 percent planned to transfer, with Towson the most popular destination. Other colleges that students cited included UMBC, the University of Baltimore, and McDaniel College. Carroll's Transfer Office works closely with students who intend to transfer to a variety of four-year institutions.
Many Carroll graduates are taking exemplary academic records with them. About 30 percent of graduates are expected to have final grade point
averages of 3.5 or higher.
Students who do not transfer typically seek jobs in their fields of study upon graduation. Of the fiscal year 2005 graduation applicants who do not intend to transfer, four in five expect to be employed upon completion of their degrees at Carroll. Carroll County topped the list of locations where students expect to work after graduation.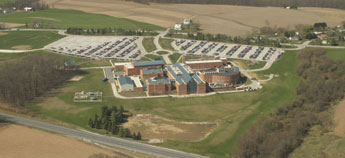 A recent aerial photo by Tim League shows the campus in its rural setting.