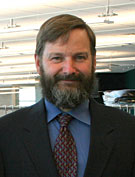 Dr. John Carty
Dr. John J. Carty, Jr. is a true renaissance man. The former carpenter, turned farmer, turned medical student is currently a resident physician in psychiatry at the University of New Mexico Hospital. He is also a former student at Carroll Community College, and served as commencement speaker for the Class of 2007.
The son of a Marine Corps officer, Carty has traveled around the world. His first job was as a carpenter in Utah. He moved to the Washington, D.C. area to work in carpentry again.
However, a small voice inside him wondered if his dream of becoming a doctor could possibly come true. He carried the voice inside him quietly, while he went about getting married and having a family.
After starting his family, Carty considered becoming a farmer. From 1989 to 2001, Carty was the owner of Thistle Dew Fine Farm, which grew vegetables, herbs, and cut flowers for sale at local markets. The farm was located in Carroll County. "It was a great way to live. It was a challenge to make money, but I loved it. It was a wonderful lifestyle, but was difficult financially," he said.
The inner voice urging him to pursue medical school became stronger, as he began to consider what he would need to do to actually become a doctor. Carty decided to go back to school and enrolled at Carroll Community College, where he completed 51 credits. He then went to McDaniel College, and graduated with a bachelor's degree in Biochemistry in 2001. He completed his graduate education from the University of Maryland School of Medicine in 2005. He was officially an M.D. Today, Carty is a resident physician in psychiatry at the University of New Mexico Hospital.
Carty shared his personal story of inspiration and success with the graduates at Carroll's Commencement on May 23, 2007. His address is reprinted in this newsletter.