Carroll Community College President Dr. Faye Pappalardo selected two graduates as recipients of the 2010 President's Academic Excellence Award. Rachael Mason and Tatiana Bradshaw each received a $500 award from the college president on May 26 during Commencement ceremonies at McDaniel College.

"I am delighted that Rachael and Tatiana both received the President's Academic Excellence Award," said Dr. Pappalardo. "Both students were exemplary in their work at Carroll and I could not choose only one. Rachael and Tatiana are clearly deserving of this honor. I congratulate them for their hard work." Students selected for the award have completed at least 45 Carroll credits, have a 4.0 average, and were recommended by the faculty to the president. Mason, a wife and mother of daughters ages five and seven, is a nursing major. "I have really enjoyed the nursing program," said Mason. "It is very challenging." During her years at Carroll, Rachael also volunteered her time at the Therapeutic Riding Center. Faculty members enthusiastically recommended Mason to the President. Comments included "she is a role model for the rest of the class" and "she consistently presents a professional demeanor." Bradshaw, a secondary education major, said she has enjoyed her years at Carroll immensely. While working three jobs, Bradshaw is also a Hill Scholar and participates in many extracurricular activities at Carroll. Faculty members gave her high marks for the President's consideration. Comments included "Tatiana Bradshaw has worked hard to maintain a 4.0 G.P.A. whether she is performing on stage,in her college courses, or working in public school field placements."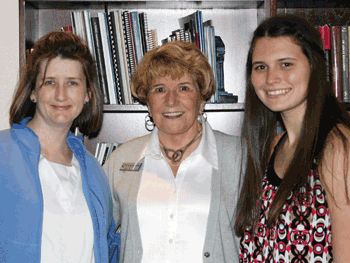 L-R Rachael Mason, Dr. Fay Pappalardo, and Tatiana Bradshaw meet to discuss the Preident's Academic Excellence Award.