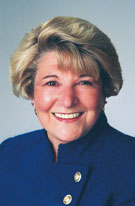 Dr. Faye Pappalardo
President
As the 2008–09 academic year reaches its conclusion, the college is proud of many achievements. In this Commencement issue, I invite you to celebrate the Class of 2009 and other college highlights.
As I reflect on the stories of the Class of 2009, one word comes to mind to summarize the characteristics of our graduating students. That word is determination.
When you read the story about John Biondo, I hope you are as impressed as I am by his hard work in search of a career path. John did not know exactly what he wanted to study when he entered Carroll. His resourcefulness and determination to discover his talents led to his success.
Stacey Throndset is another inspiring graduate. She performed a rigorous set of activities to complete the student Leadership Challenge program. Stacey is an example of a student who has blossomed into a leader while at Carroll.
There are countless other stories of graduates who through sheer determination, have reached this day, when family and friends show their support at Commencement.
Many students have mixed emotions on this wonderful day. Some will feel a bit of sadness as they say goodbye to close friends and former instructors. They may feel relieved that they have completed this part of their academic journey. I am sure that our graduates feel the necessary confidence to launch into the work world, or move on to transfer institutions. Our graduates' determination will allow them to reach their goals for the near and distant future. I offer a special thank you to our faculty who helped guide our students in their endeavors. I applaud the Class of 2009 and wish them the best.
Dr. Faye Pappalardo
President