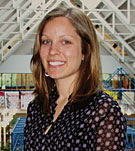 Stacy Throndset
When 2009 graduate Stacey Throndset was an intern in the Carroll Community College Foundation office while a high school senior, she never realized that she would be a Carroll graduate a few years later and serve as student speaker for Commencement.
Throndset was so impressed by Carroll during her internship that she decided to enroll at the college after completing high school. Throndset entered Carroll as a member of the inaugural Hill Scholars Program. She found her niche as an Arts and Sciences major. During her spare time between classes and studying, she participated in extra-curricular activities.
As president of the Campus Activities Board, Throndset worked with other students to organize the Welcome Back Lunch, the Crab Feast, and study breaks. "Our goal is to organize events to allow students to network, connect, and have fun in a relaxed environment," Throndset said. "I also had the opportunity to attend a national conference related to organizing campus events in Lancaster, Pennsylvania."
Throndset has also completed the Advanced Leadership Challenge program at Carroll.
The Woodbine resident said, "I became more outgoing and confident, and more of a leader through my experiences at Carroll."
"My central theme during my speech at Commencement will be first and foremost, to congratulate everyone," Throndset said. "I also plan to deliver the message that you don't always know how things will turn out until you try them. Look at all the opportunities and experiences I received while enrolled at Carroll that I never imagined I would have."
Throndset plans to pursue a four-year degree in interior design.