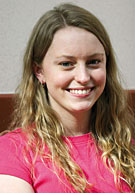 Jenna Myers
The Martin K.P. and Kelly W. Hill Scholars Program, a selective admissions, honors program for first-year students, enrolled its first cohort in fall 2007. This May, thirteen students are the first to graduate from the Hill Scholars Program.
"I want to extend my warmest congratulations to the first Hill Scholars at Carroll Community College," College President Dr. Faye Pappalardo said. "I am most impressed with the caliber of these students and wish them well in their educational pursuits after graduating from Carroll."
In addition to rigorous coursework, Hill Scholars participated in an honors seminar each semester. At the end of the two-year program, students earn an associate degree as well as the Hill Scholar designation.
The program carries agreements with selective private and public four-year colleges and universities to facilitate transfer as a junior. Scholarship support may be available for qualified students.
Hill Scholar Jenna Myers is graduating with a degree in Arts and Sciences. She has been accepted to New Tribes Bible Institute in Jackson, Michigan and plans to start her studies there this fall.
Myers said that after the hard work and time she put into the program, she feels rewarded. "My favorite aspects of the program are the cohort aspect, the team-building, and the focus on community service and service-learning."
"I have built life-long friendships with many of my classmates," Myers said. "The program provided an environment that allowed me to form strong bonds. I am extremely grateful for all the opportunities that I had through the Hill Scholars program. It was a privilege and an honor to be a part of the Hill Scholars inaugural class," she said.
"I hope that our class surpassed expectations to
set a high standard for future classes," Myers said. "I would like to thank everyone who has been involved with the Hill Scholars program. Very special people had a vision for an honors program at Carroll Community College. It is because of their vision
and hard work that our class had such wonderful opportunities in learning and serving."
Kristie Crumley, director of Student Life at the college, has shepherded the program since its inception. She reflects on the progress of the students whom she has seen blossom and grow over the past two years. How does it feel to Crumley to see the first cohort graduate?
"All of these students came into the program as accomplished students, but I feel like each of them has grown so much since they began here," Crumley said. "They have sharpened their leadership skills and become mentors and leaders at the college and in the community."
"Some of my favorite times have been when I've been able to travel with the group," Crumley said. "We've gone on leadership retreats, Alternative Spring Break trips and numerous transfer college trips. Every time I watch these students spread their wings a little wider, I feel proud of them."
Prospective students from the high schools learn about the program through information given to them by guidance counselors, through college admissions and recruiting efforts, or through friends and siblings who are already in the program.
"We're finding that students are talking about
the program in their high schools," Crumley said. "Siblings are talking about the Hill Scholars Program in their families, and we already have two sets of siblings who have joined the program. Each information session that we've had in the high schools has been better attended than the last."
Crumley predicts that interest in the program will increase steadily. "Though we'll not grow bigger than about 22 students, I see our applicant numbers growing every day," Crumley said. "I think that we'll change a few of the courses to align with the general education program changes, but otherwise, the program will stay largely intact. I've enjoyed watching the program grow and develop over the years."
Graduating in May as the college's first Hill Scholars are Stephanie Ducker, John Farb, Daniel Garmon, Virginia Gray, Jennifer Knight, Jenna Myers, Michael Parks, Caitlin Proudlock, Daveed Sumpter, Stacey Throndset, Ashley Ward, and Christina Williams.