Carroll Community College celebrated its Nineteenth Commencement on May 23, 2012 beginning at 3 p.m. at McDaniel College
Delegate Justin Ready, who represents District 5A in the Maryland House of Delegates, delivered the commencement address. Ready is an alumnus of Carroll Community College, having earned his associate degree from Carroll in 2002. He earned his bachelor's degree in political science from Salisbury University in 2004.

"Delegate Ready is an example of the excellent students that we graduate from Carroll Community College," said Carroll President Dr. Faye Pappalardo. "He is a person of integrity. Delegate Ready is enthusiastic, forward-thinking and of high moral standards. He is proud to be a graduate from our college. He was inspiring and thought-provoking."

Graduating student Luke Fisher, editor-in-chief of the student newspaper The-Quill, addressed his fellow graduates as student speaker. He shared with graduates what an honor it is to receive a Carroll degree. He inspired graduates to help create a better world, whether they go right to work or pursue further education.

Fisher has been involved in many leadership activities as a Carroll student. He said his greatest accomplishment was launching the student newspaper at the college. He was also the founder of the Green Team environmental club at Carroll. He hosted a voter registration drive on campus. Fisher was a peer mentor in the Great Start program and also a peer tutor in the Academic Center.

Most recently, Fisher received national recognition among community college students. He was selected a member of the All-USA Community College Academic Team, which annually recognizes 20 outstanding two-year college students. Fisher plans to attend the University of Maryland, College Park and to eventually become a reporter.

Trish DeNardis received the President's Academic Award. She described Carroll faculty as helpful and engaging. DeNardis plans to transfer next year to the University of Maryland to pursue her bachelor's degree in nursing.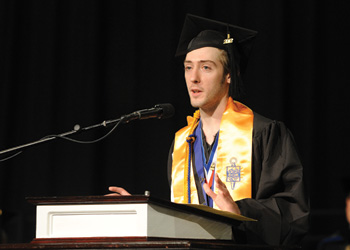 Student speaker Luke Fisher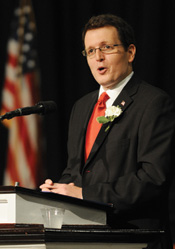 Delegate Justin Ready