"As many as half of all high school students are under-educated or miseducated, and some students who have already been accepted to college routinely ignore their high school's academic demands," says a report recently released by a commission appointed by the U.S. Department of Education.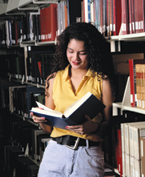 In "The Lost Opportunity of the Senior Year: Finding a Better Way," the National Commission on the High School Senior Year urges students, their parents, and their communities to emphasize the importance of committed study throughout all four years of high school.
Regardless of high school graduation requirements, students should take as many challenging courses as they can while in school. Ideally, all students would complete four years of English, mathematics, and science.
The complete report can be found at www.commissiononthesenioryear.org. Some of the report's findings include:
A high school diploma is no longer a guarantee of success in either postsecondary education or the world of work.
The goal of America's high schools of preparing some students for college and others for work must change. High schools need to prepare all students to live in an increasingly complex and interdependent world where lifelong learning is essential.
Work during school years must be restructured to support student learning. Good work experiences can help students understand why literature and physics are important in high school; too many hours working a low-level service job can be detrimental to learning.
The report concludes by stating that "the nation faces a deeply troubling future unless we transform the lost opportunity of the senior year into an integral part of students' preparation for life, citizenship, work, and further education."