The Governor's Workforce Investment Board has identified five industries where Maryland is facing "critical workforce shortages." These are information technology, teacher education, nursing/allied health, construction, and tourism. These industries will provide good job opportunities for those properly prepared and educated.
Information Technology. IT is one of the fastest growing sectors of Maryland's economy and is a major engine for increasing productivity and creating high-wage jobs. IT pervades every industry and increasingly every home in America. The fastest-growing jobs in the nation are IT jobs. Jobs currently in demand are web developers, network engineers, applications developers, and help desk support. Employers seek workers with Java, XML, HTML, active server pages, Visual basic, Windows NT/2000, TCP/IP, Oracle, SQL, and NT server LAN skills. For a recent, local needs assessment report on IT jobs prepared by the college's institutional research office go to www.carrollcc.com/ir/reports.
Teacher Education. The state expects to need 10,000 new classroom teachers over the next two years to replace retiring teachers and meet increased enrollment. State colleges and universities currently produce approximately 2,500 teacher education graduates each year. Areas of critical shortage are art, agriculture, computer science, English for speakers of other languages, Spanish, mathematics, earth/space science, physical science, physics, and special education.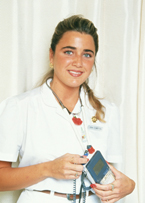 Nursing/Allied Health. Maryland will need over 56,000 nurses in 2006. Yet vacancy rates for hospital nurses are 4 times their normal rate now. In 1999, for every eight nurses retiring, only three new graduates entered the field. According to the Maryland Board of Nursing, 55 percent of the new graduate nurses in Maryland have been prepared at the community college or associate degree level. These graduates have historically had a higher success rate on the RN licensure examination than baccalaureate degree graduates. For a recent look at the local need for health care workers, see the institutional research report posted on the college website.
Construction. Maryland's construction industry has grown for seven consecutive years, adding 9,500 jobs in 1999 alone.
Tourism. The second largest employer in Maryland, the tourism industry generated 57,000 new jobs in the past 12 months.
Community colleges, including Carroll, offer credit and/or noncredit courses in all five areas with critical workforce shortages. Call or stop in to learn how Carroll can prepare you for careers in these growing industries!