On May 28, 2008 Carroll Community College students who had completed degrees during the past year had the opportunity to cross the stage and receive diplomas. The ceremony was held at McDaniel College in Westminster. Commencement attendees included the graduating class, the board of trustees, college faculty, administration, and staff, local dignitaries, and family and friends of the graduates.
Dr. Robert J. Massa, Vice President for Enrollment Management and College Relations at Dickinson College, was the Commencement speaker. Dr. Massa has served in this capacity since 1999 at Dickinson, located in Carlisle, Pennsylvania. For ten years prior to joining Dickinson, Dr. Massa was Dean of Enrollment at Johns Hopkins University. Dr. Massa received his bachelor's degree from the University of Rochester and a doctorate in higher education from Columbia University.
According to a survey completed by graduates at the time of application for graduation, 42 percent indicated they planned to transfer to a four-year college or university immediately as a full-time student. The most popular transfer destination was Towson University.
When asked if they expected to be employed upon completion of their degrees at Carroll, 36 percent of respondents said yes, in a job related to their majors at Carroll. Two-thirds said they intended to work in Carroll County after graduation.
Other students had a mix of part-time employment and part-time continuing education plans.
When asked how they felt about the overall quality of instruction at Carroll, 97 percent of students gave a rating of "good or very good," testament to the outstanding education provided by the college's faculty.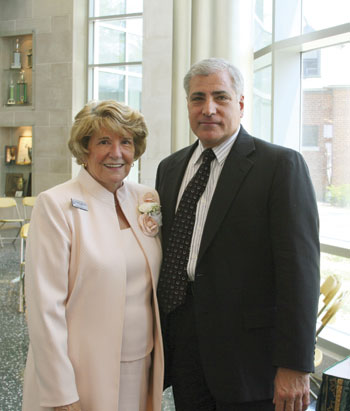 Dr. Faye Pappalardo and Dr. Robert J. Massa at a reception in his honor prior to the commencement ceremony.